Speaking of peacock-themes, (
Friday Finds
segue) when I was trolling etsy, like I do, I found this awesomeness!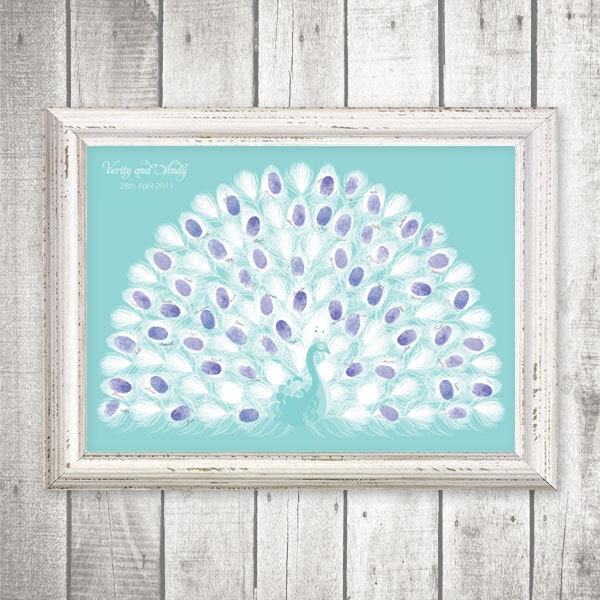 I had never seen anything done like it before. It's a guestbook that becomes art! (Not to say that other guest books can't be artful). I decided that we had to have one. Not only that, but it would have to become another DIY project! So I took a trip to Michael's Craft Store (my favorite place) and gathered the supplies: Poster board and markers. Using a picture of a peacock and real peacock feathers to find the colors, I created this:
The guests fill in the rest of the feathers
by placing their thumbprints
along the feather lines!
Here's the bird.
Detail shot of the tip of the feather.
I plan on grabbing a few blue ink pads for the guests to stick their thumbs on to make their prints with. Instead of using as our guestbook at the wedding however, I have been thinking: if we asked our guests to participate in the thumb print guest book at the wedding, I think they would be likely to decline, since they are probably going to be all dressed up, they wouldn't want to get ink on their fancy clothes. SO! We are going to employ this little DIY craftie I made at the rehearsal dinner! Win! Next mission; to find a nice frame to fit it in.
Best,
Micah